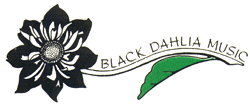 Hot News From Black Dahlia Music
Black Dahlia Music proudly announces the release of singer-songwriter Lorin Rowan's first album on the Black Dahlia Music label.
Lorin Rowan is a seasoned musician and performer who started writing songs at age 12. He spent his teenage years singing and playing guitar with his older brothers, Chris and Peter. That led to his first record with Columbia in the mid 70s with brother Chris, performing as the "Rowan Brothers," and featuring pop/rock duet harmonies. With brothers Chris and Peter he has recorded three albums in the country/rock genre on the Elektra/Asylum label.
With his San Francisco-based Rock/Reggae band, The Edge, he has produced three independent records ('82 - '89), two of which received nominations for most outstanding independent release.
He has opened for the likes of Los Lobos, Huey Lewis and The News, Jerry Garcia Band, Midnight Oil, The Beach Boys, NRBQ, John Hiatt, Maura O'Connell, the Bobs, David Lindley, Leon Russell, and Laura Nyro.
Lorin has toured extensively in the U.S., Europe, and Japan, and has performed on the same shows with James Taylor, Alison Krauss, and Little Feat. He has also appeared on National Public Radio's Garrison Keilor's Prairie Home Companion.
Lorin's original songs have been covered by such diverse acts as Jefferson Starship (rock) and Northern Lights (country- bluegrass). He also composed the film score for "The Money Tree," a movie released in 1992.
Lorin's new CD My Father's Son (street date of 2/15/96) features his powerful, original brand of country/folk/rock music with world-beat influences.
The album was produced by Dick Olsher, with digital mastering by Doug Sax at the Mastering Lab in Hollywood.
---
---
---
Thank you for visiting our Web site! Please
mail us
any comments or questions that you may have.
Last modified: September 28, 2001

All images, text, and sound clips (C)1998-2001
Black Dahlia Music
All rights reserved
.