New Basszilla Woofer
Tip #92
Dick Olsher (December 2021)
As many of you know, I've been using the Basszilla Platinum Edition Mk2 for over a decade by now as a reference for evaluation of low-power amplifiers. My pair is outfitted with the Eminence Definimax 4015LF woofer. Unfortunately, Eminence discontinued the 4015LF last year. And while I was looking seriously at its replacement, the 15" Pro 4015ULF-8, I was informed that it too is being discontinued. Not only that, but my contact at Eminence told me that the Impero 15 and Kilomax 15 are also being discontinued. Only the Omega Pro 15 remains active, but it's basically a bass guitar woofer.
It was time to look for a compatible alternative that was widely available, and I think I found it in the B&C Speakers 15TBX100 (8 Ohm) 15" Pro woofer.
Some of its features are:
· - 2000 W continuous program power capacity
· - 100 mm (4 in) copper voice coil
· - 35 - 1500 Hz response
· - 96 dB sensitivity
· - Aluminum demodulating ring allows a very low distortion figure
· - Double silicone spider with optimized compliance
· - Ventilated voice coil gap for reduced power compression
From their webpage: "Since 1946, B&C Speakers has been one of largest and most prestigious professional loudspeaker transducer manufacturers in the world. In addition to designing and distributing components under the B&C brand name, they also supply OEM components to many of the top professional audio brands in the market today.
With more than 100 employees, 10% of which are engaged in our Research and Development department, B&C Speakers designs, produces and trades all of its products directly from its head office located in Bagno a Ripoli (Florence), Italy."
It was time to plug this woofer into the AJHorn speaker design software. Developed by Armin Jost, it constitutes a powerful, flexible and accurate design tool. I assumed an internal net volume of 126.3 liters, exclusive of bracing, driver, and vent displacements. The good news is the 15TBX100 is predicted to work extremely well in the Basszilla cabinet, albeit with a revised bass reflex vent.
The following plot shows the predicted frequency response (2.83V/1 meter) as modified by the Basszilla Mk2's low pass filter. The predicted bass response is extended to 32 Hz, and that's even better than that of the Eminence 4015LF.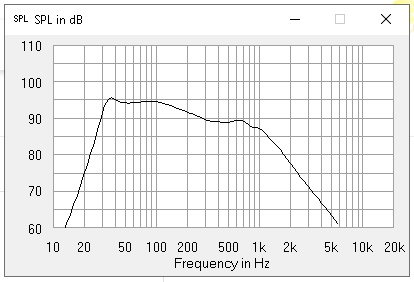 The predicted impedance magnitude as a function of frequency is shown below. The box tuning is 38 Hz using a single vent, 127cm2 in cross sectional area, and 15.3cm (6 inches) long. The shape of the vent is not critical, either a 5-inch diameter tube or a rectangular vent with a cross section of 127 cm2 should work well.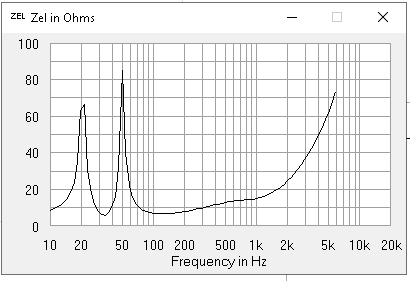 Should you decide to deploy this new woofer, I would very much welcome your feedback.